summer adventures in sewing
My mom and I embarked on a rather ambitious adventure this week: sewing jeans. She and my dad drove up to visit this week. Luckily, the summer heat took a reprieve for the three days they were here. They had some quality time with the kids, we ate dinner outside on the [brand new!] patio, and then mom and I holed ourselves up in my sewing cave with a pile of denim, a couple of sewing machines, and the Ginger Jeans pattern.
It was an adventure, let me tell you. Cutting out took forever because there were so many pieces, and then my mom decided the size was wrong so she cut hers out again (good thing I have a big stash of denim!). We both got confused by several steps in the instructions (I thought the Ginger Jeans were supposed to have such great instructions, and that's a big reason I chose that pattern, ugh) and did a lot of head-scratching to figure them out. That zipper fly is still a big mystery to me; the only reason I got through it was that my mom has done those before and could help me out. I did a lot of seams twice. For every stitch of topstitching that I kept, I did at least three that looked like shite and had to be ripped out. And then most frustrating thing of all was when my serger - a White Speedylock I bought for cheap on sale at Joann in the early 2000s when I was a grad student on a shoestring budget - suddenly became possessed by the devil. Thread broke, needles broke, the cutter kept slipping out of place. More than once I seriously threatened to take it outside with a sledgehammer Office Space style.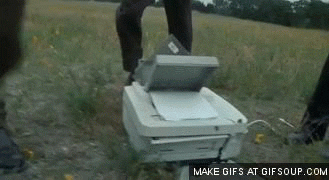 Seriously, I nearly cried. But we got through it somehow, and by the end of the day yesterday, I had a nearly finished pair of jeans!
Please excuse the clover clips and flour stains.
After all that effort, I hope I like these jeans when they're done. They're snug, almost too snug, but that's better than baggy. The rise is a bit low. I made the low rise version because I HATEHATEHATE high waisted pants and find them very uncomfortable. That said, these would be better with an extra inch of rise so I don't show me undies every time I sit down. I guess I'll try and modify that on the next pair. Yes, there will be a next pair! I'm not giving up yet.
Let's do a quick throwback to last week now, shall we? Fancy Tiger Crafts recently released a basic tank top pattern, the Adventure Tank. It just so happened that I'd been thinking of trying to self draft a racer back tank based on one I wear as PJs because I like the fit but not the fabric (it's cheap from Target, not proud I get clothes from Target but I can't make everything, yo) and the timing was just too good.
I love this tank. I actually made a practice version out of black rayon spandex that isn't going to hold up, but once I knew it would fit, I pulled out some organic jersey I've been hoarding for a while and made another one.
This is "light jersey" from Organic Cotton Plus and it is lovely and soft and drapes beautifully. The bias of the fabric was quite pronounced so I had to adjust where I cut the pieces out, but fortunately I had plenty of extra to do that. I could probably make myself a short sleeve tee or something for one of my kids out of what's left, in fact.
I made the smallest size and lengthened it by 3", and it's perfect. I do find the original to be a bit short for my taste, but I like most of my tops to cover my hips. I also bound the neckline and armholes rather than just narrow cuffs, and then topstitched with a zigzag. I was nervous it wouldn't work out, but it turns out I was nervous for nothing.
Now, I obviously need a new bra!